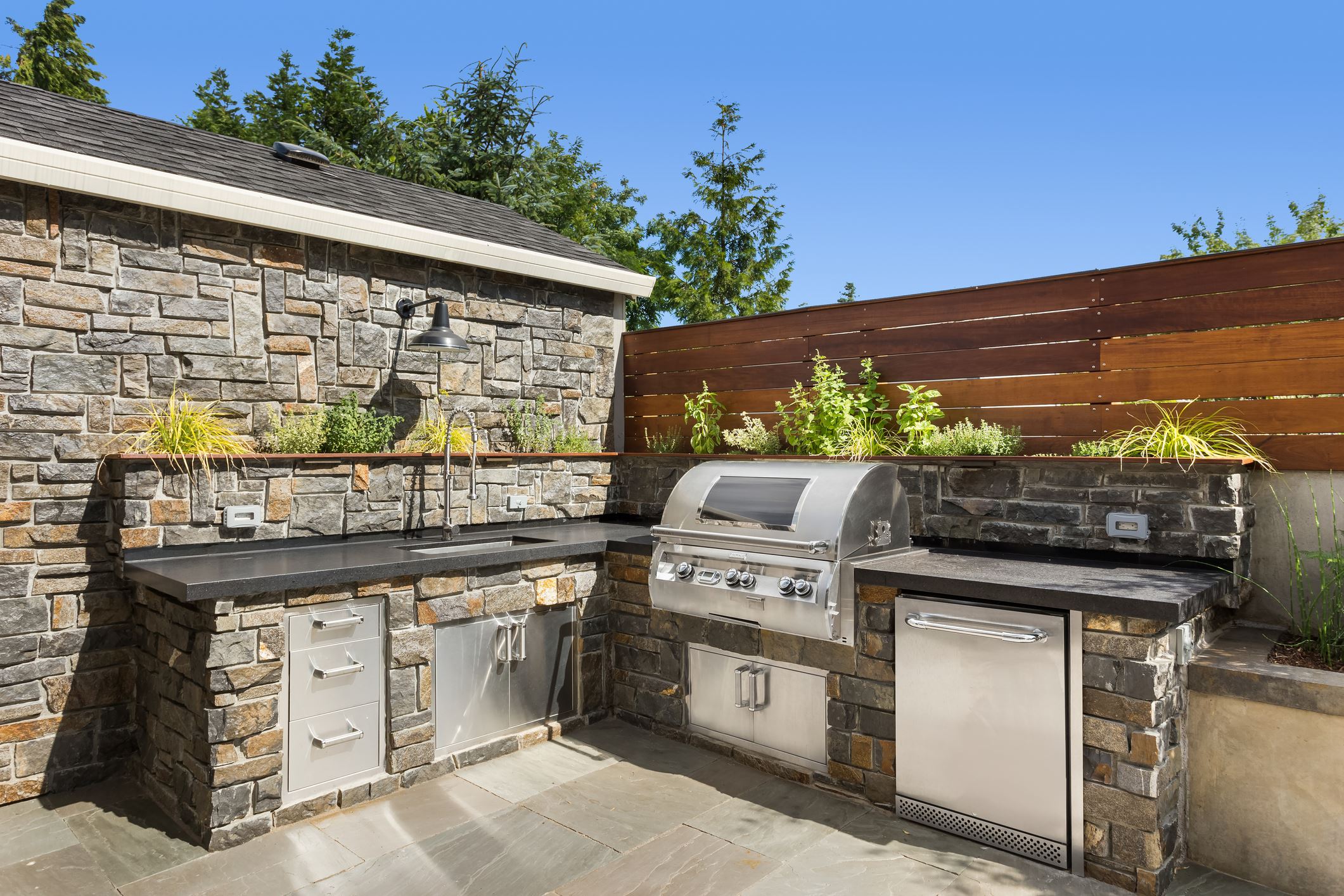 Nothing screams fall nights like hosting outdoor gatherings at home, especially if your outdoor kitchen is ready.
Outdoor kitchens usually include an area where you can cook, entertain, and host guests.
What's your budget?
One of the main factors to consider before you start your new project is your budget. Following a budget plan is vital to a cost-friendly approach and will set boundaries for overspending. Ensure you spend your money wisely on core elements of an outdoor kitchen, such as cabinets, countertops, seating, lighting, appliances, and more.
When determining your budget, consider the different quality standards you'd like to have in your project:
Building materials: Higher quality finishes and materials may cost more, but they also tend to last longer.

Your utilities: Utilities such as electricity, gas, and running water may need to be added to your outdoor kitchen if lines are not already built or readily available.

Entertainment: If your outdoor space requires internet or cable, be sure to calculate these costs.
Where do you want to build it?
Another factor to consider is your location and where you wish to build. Weather plays a massive role in the best selection for your outdoor kitchen. You should consider the climate and environment where the home is located since these factors will impact the design, materials, and length of the open season for outdoor kitchens. Particularly pay attention to the area in your yard you're looking to build. Do trees generally protect it? Or is your space out in the open, in either direct or indirect sunlight?
Every weather brings unique challenges and solutions, and accommodating your build for your location is essential.
How would you like to layout your outdoor kitchen?
Since most indoor kitchen layouts can be used for outdoor kitchens, you have many options.
Examine your outdoor space and use it as an inspiration for your layout. If space is not an issue, add or expand your outdoor kitchen to include an island with a sink, a bar, or even an entertainment seating area! Working with the right team will help you enhance your outdoor setting to fit your liking.
What appliances are you looking to have?
It is no secret that appliances can increase the value of your outdoor kitchen. By equipping your kitchen with gas, electrical, charcoal, infrared, or grills, you are on the road to elevating your outdoor kitchen experience.
Another tip to keep in mind is the specific location of your outdoor space. Rain, sunlight, and other elements will have an impact on the efficiency of your appliances. Therefore, choosing the best models for your outdoor space ensures the best value for the investment.
Our team at Freedom Outdoor Kitchens offers Coyote Outdoor Living products. Appliances like these are made for your outdoor kitchen and are designed with precision, power, and durability. They allow you and your loved ones to enjoy the luxury of having all your outdoor space necessities met.
Trusted Outdoor Construction Services in Melbourne & Central Florida
Our team at Freedom Outdoor Kitchens is passionate about helping you get the most out of your outdoor environment by creating custom, stunning, and functional spaces in Melbourne Beach, Melbourne, Viera, Palm Bay, and the Greater Brevard County area. Our technicians have the expertise and equipment to deliver second-to-none results. To learn more about our services, or to schedule an appointment, call our team today at (321) 415-4109.